Ready to get started? View current rates or send me email at scuba@spanglers.com for more information.
Open Water Diver
Your first scuba certification. Accepted worldwide.
So, about those questions...
Is it hard?
Not really.
All of your scuba gear is designed to make diving easier. Fins mean you can swim longer with less effort. Your regulator lets you breathe freely underwater, unlike free diving where you can only stay underwater as long as you can hold your breath. You'll learn to adjust your buoyancy control device (BCD) so you float effortlessly in the water, instead of bouncing around on the surface as a snorkeler. And your wetsuit will keep you from getting cold, so you can enjoy the dive.
The classroom portion is designed to be accessible to new divers as young as 10 years old.
And we practice all the skills in the pool before we head to the ocean, so you'll be prepared before you touch salt water.
Who can do it?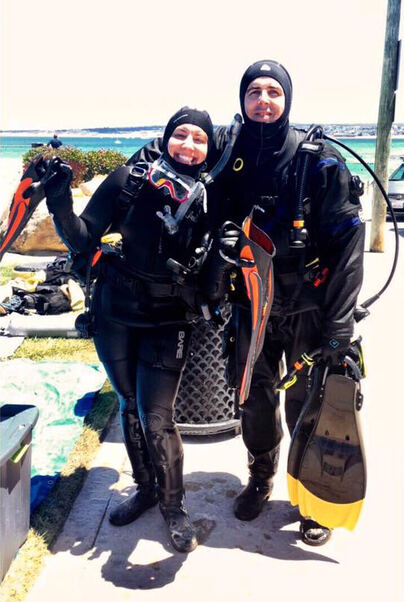 Really, just about anyone who is at least 10 years old.
You do need to have basic swimming skills (able to swim 200 yards without stopping, though you can swim slowly, and float or tread water for 10 minutes) and be reasonably comfortable in the water (because it's hard to dive if you don't like getting wet).
How long does it take?
The first part of the class done in a web browser or on a phone or tablet. That takes 8-15 hours, done at your own pace. We'll do a quick review of this material before the first pool session, too.
We'll spend some weekday evenings and/or weekend mornings in the pool. Most students need 3 lessons. Scheduling is flexible, and we can schedule additional lessons if you want or need more practice.
Then we go down to Monterey for 2 days in the ocean, doing a total of 4 ocean dives. For each dive, we practice some skills, then I'll take you on a tour and show you marine life. Some students rent a hotel room and do both days in one weekend; others drive down two different weekends.
After your fourth ocean dive, we fill out some paperwork, and you're certified!
What do I need?
You'll need the PADI eLearning Open Water Course.
You should have your own personal gear (mask, snorkel, fins, boots, gloves). Yes, dive shops can rent some of those things to you, but nothing spoils a dive like a mask that doesn't seal to your face or fins that chafe your feet.
Diver Dan's will rent the rest of your equipment to you (wetsuit, hood, BCD, regulator, dive computer, tanks, weights).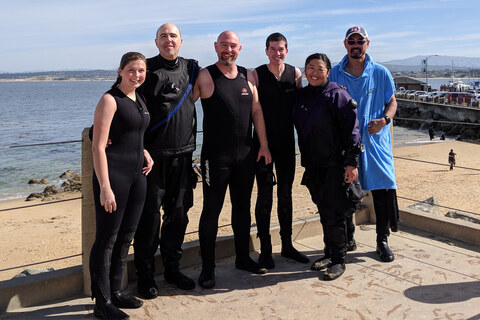 Is it cold?
In a properly fitted wetsuit, it's no colder than being on a ski lift at Tahoe. You'll be aware you're not in the Bahamas, but it's totally manageable even if you don't have a seal-like layer of blubber around your middle.
If you're particularly sensitive to the cold, you may want to take the Drysuit Specialty Diver certification next. Drysuits are like rubber suits you wear over soft thick fuzzy pajamas, which stay dry during your dive.
What about sharks
They're really uncommon in Monterey. I've done over 600 dives in Monterey, and I've only seen a handful of small sharks, none over 3 feet long. Usually they swim away so fast I can't even get a picture. I've never seen a great white shark in the water.
Yes, there are sharks off of Santa Cruz. That's a sandy beach with lots of seals. Sharks like seals. Sharks occasionally mistake surfers or kayakers for wounded seals, because they're flopping around on the surface. So they take a taste, and then go away (because surfboards and kayaks don't taste anything like seals).
But see, scuba divers aren't on the surface. We're underneath it. And divers breathing through regulators don't sound anything like seals. So sharks know we're not food.
If you DO want to see sharks, you have to put some effort into it. There's a boat that goes out to the Farallon Islands and lets you cage dive. You can go to Maui and do a drift dive off of Molokai to see hammerheads. Or you can go down to Guadalupe Island off of Mexico. Try to stay away from operators that chum the water; that changes natural shark behavior.
Don't even get me started on 47 Meters Down.
What if I don't want to dive in Monterey?
You have two choices:
You can do the classroom and pool portion of the course here, and then transfer to another dive shop somewhere else; that's called a Referral (see below)
You can fly me somewhere tropical. If you do, I'll teach you any courses you want at my cost while we're there. Seriously. Take me with you.
Why take private / small group lessons?
I'll be honest. Group classes are cheaper than a private or small group lesson. They can be fine if you're already comfortable in the water, self-motivated, or have done some instructor-led dives before. There are a number of good dive shops in the Bay Area, and I'd be happy to recommend one to you (I know most of the instructors). The trade-off is that if your group is large, the instructor's time is split between a lot of other students, and they need to keep the class moving so things can sometimes feel rushed.
If this all seems new and daunting, or you tried a group class and it was a bit overwhelming, or you have a busy schedule and can't commit to two full weekends in a row of training, or you want to make sure you get all the practice and personal feedback to start out diving confidently, you'll get more out of a private or small group lesson. This can be particularly true for kids.
I don't recommend doing the entire class on vacation. Tropical dive shops tend to really rush through the classroom and pool portions so they can get you on a boat as fast as possible. Do an open water referral instead (see below).
Open Water Diver Referral
If you're planning on going diving on vacation, and don't have the time or ability to do your certification dives in Monterey, you can do a Referral.
You'll do the eLearning and pool portions of the Open Water Diver class with me. Then you can complete the ocean dives with a PADI dive center at your vacation destination any time in the next 12 months.
I can help you find a dive center at your destination and make sure all the paperwork is transferred across.
You'll still spend some of your vacation time doing skills in the ocean before getting to tour the dive site. But it's still a lot better than doing the entire course during your vacation; who wants to spend vacation sitting in a classroom? You'll also get a lot more time in the pool to practice your skills than at the typical tropical dive shop.
Try Scuba In The Pool
So, you're still not sure about the whole scuba diving thing, and not ready to commit to signing up for a class.
Good news. We can still spend an evening in the pool. This is an opportunity to try on scuba gear in the pool with the help of an instructor, and see how much you like it. You don't need to bring anything but a swimsuit and a towel. Once you discover you love it, you can sign up for a group class, or contact me to arrange private lessons.