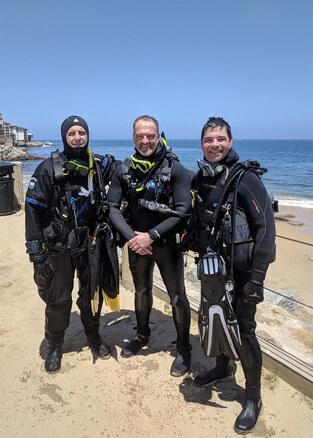 Interested in guided dives for a group, or just for yourself? Want to learn more about the phenomenal variety of marine life in the area? Haven't done cold water diving, and want to try it with a professional?
I guide small groups (maximum 4 divers) on two tank adventures in Monterey. I can take you to a range of local dive sites based on your skill and comfort level.
Ready to get started? View current rates or send me e-mail at scuba@spanglers.com to make a reservation.
What's a day of diving look like?
Our schedule is flexible because I only take small groups, but to give you an idea:
8:00 am - Meet at beach for paperwork and dive briefing.
9:00 am - Dive #1
10:30 am - Talk about what we saw on the first dive.
11:30 am - Dive #2
1:00 pm - Talk about what we saw on the second dive. Stamp logbooks (I've got a pretty stamp).
Save time at the beach! Download the Guided Dive Waiver and fill it out ahead of time.
COVID-19 Status Update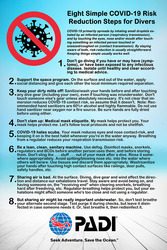 As of July 1st, I'm back guiding and teaching, using guidelines developed by PADI and Divers Alert Network for your safety and mine. I'm fully vaccinated.
Before you leave your house

If you are not feeling well or have any symptoms of COVID-19, or you have had close contact with someone who has, please let me know and we'll reschedule. I'll waive cancellation fees in this case.

Before and after the dive

All briefings and buddy checks will be conducted outdoors at a safe physical distance.
Please bring and wear a mask during pre-dive / post-dive activities if you're not vaccinated.
I recommend bringing hand sanitizer; not all bathrooms in Monterey have soap or sanitizer

During the dive

I have defog with me at my car and in the water. If you're going to spit into your mask, do it at a safe distance.
Once we're underwater, the risk of contamination is minimal.
We'll also be following all regulations from Monterey County and the city we're diving in (Monterey, Pacific Grove, or Carmel-by-the-Sea).
Closures (last update: November 2021):
Point Lobos has reopened for guided dives! More information below.
Diver Dan's pool has reopened! All scuba classes are available again!
First Aid / CPR classes are available if you're fully vaccinated. Class sizes are limited, and skills will be done outside or in a room with through-ventilation.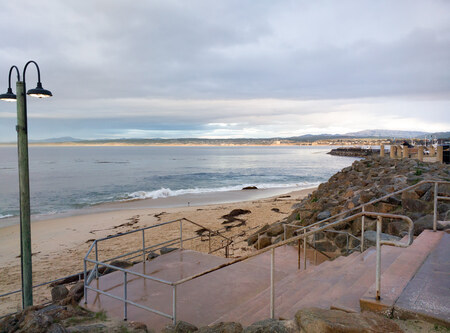 East Beaches
These all have easy shore entry, and a variety of underwater terrain from reefs to rock walls to pier pilings. They're protected from the usual northwest swell, so are diveable year-round. Dives are shallower; most dives are above 50'.
San Carlos Beach: One of the best beaches on the east side. There are lots of nudibranchs on the rock wall of the breakwater. Mid-reef has kelp forest, with lots of crabs and fish. I like to go out the big pipe to the metridium fields - giant white anemones the size of your forearm. You may have done your open water training dives here, but there's a lot more to see.
Monterey State Beach: A gently sloping beach. I usually dive the Sailboat on the first dive; this is one of the only wrecks in the area. The second dive is along the pilings of the municipal wharf; there are lots of crabs and sea snails, and every piling is its own mini ecosystem.
McAbee Beach: About halfway between San Carlos Beach and the aquarium. A mix of shale and sand. Herman the Seal has been known to play with divers' fins.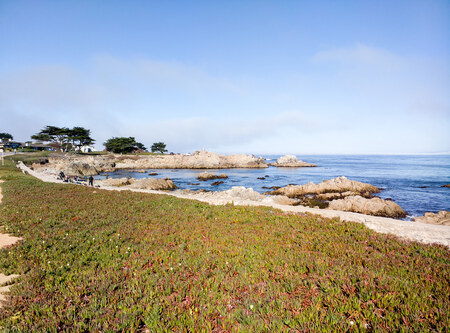 North Beaches
These are a bit more exposed beaches to the north and northwest. Dives are still shallow, above 50'. Entry and exit can be challenging if the northwest swell is kicking up, so these are a little more challenging than the east beaches (but still no more than moderate difficulty).
Lovers Point: This is actually two sites. I like to dive Lovers #3. We can head around to the northeast around the point, through a series of sand-floored shale canyons. There are lots of sandcastle worms. This is a good spot to look for bat rays and skates. I also like to swim across one of the densest sand dollar beds you've ever seen over towards Otter Cove. Entry is down stairs and across some boulders to a sand beach.
Coral Street: Swim over shale covered in sea grasses to mixed sand and rocks. This has somewhat different sea life than the other beaches, due to the sea grasses and greater exposure to waves and currents.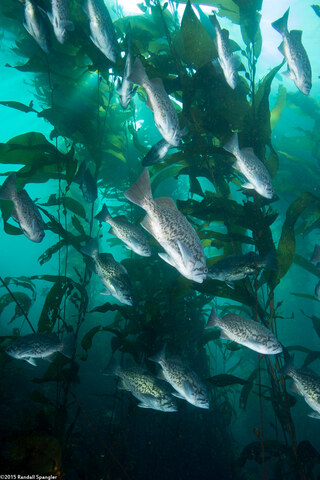 Point Lobos
Point Lobos is a spectacular dive site, with the best kelp forest in the area. Entry is an easy walk down a ramp from the parking lot at Whaler's Cove. The cove itself is shallow, with kelp growing from patches of rock mixed with sand. Mid-reef has an amazing array of life on its rocks. A bit farther out, Granite Point Wall has all sorts of ledges and small caves that harbor bigger fish.
If we go out to the end of mid-reef or Granite Point we can potentially get down to 100', but most of the time we'll be above 50'.
Guided diving at Point Lobos is limited to one dive team a day. During summer months, guided dives are limited to weekdays, due to limited parking. This uses a different process to make reservations than the website used for recreational dive teams, so don't make your own reservation. I'll also need to confirm with State Parks that the date is available, so it's best to plan trips to Point Lobos at least 3 weeks ahead of time.
Professional guides must have a State Parks Vendor Permit (I do). The park rangers know all the guides, so it's risky to pay a guide under the table.
I also enjoy diving here for fun, and I may be able to join an experienced diver or group if you have an extra spot and are looking for a last-minute buddy. In this case I can't accept compensation to offset the expense of driving down and tank fills. If I'm diving for fun, I'll be bringing my big camera, and planning two 60+ minute dives. Bonus points if we carpool from the Bay Area.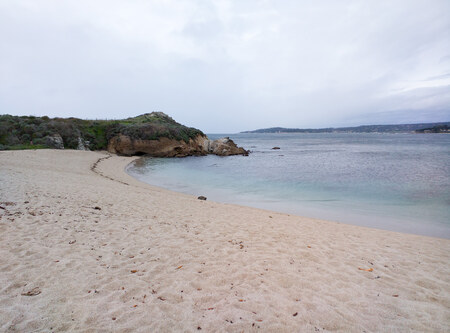 Monastery Beach
Monastery Beach is an exposed northwest-facing beach with a steeper slope down into the water. It's often not diveable due to waves, but when it is, it's got some of the best visibility in the area. South Monastery has a kelp forest and shale going down to the sand, and is a great place to see abalone. North Monastery is more exposed rock going down all the way into the mile-deep underwater Monterey Canyon (we will not go that deep). I teach the Deep Diving specialty here. This is a more advanced dive, due to the slope of the beach and potentially deep dives. It's also one you want to dive the first time with an experienced guide.
Monastery Beach is part of Carmel River State Beach. As with Point Lobos, guides must have a State Parks Vendor Permit and pay an event fee.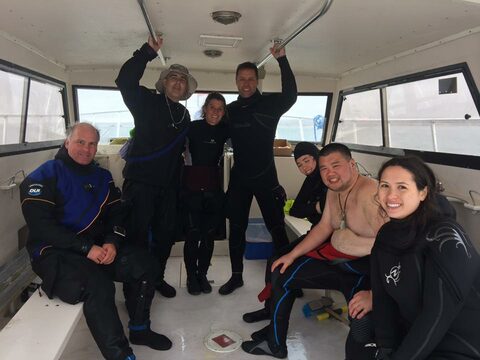 Boat Diving
We'll meet at K Dock and do two boat dives from one of the local dive boats (Beachhopper II, Escapade, Sanctuary, etc.) Many of the best sites like Hopkins Deep and the pinnacles around Carmel are only reachable by boat. Dives can be deeper; the first dive can be down to 80-100'. The captains are great about picking a site that everyone on the boat can dive, so we have some flexibility if you'd like an easier site.
Note that unlike tropical dives, local boats do not provide their own guides; they just describe the dive site and make sure you have a buddy. If you don't arrange for a guide, you and your buddy are on your own.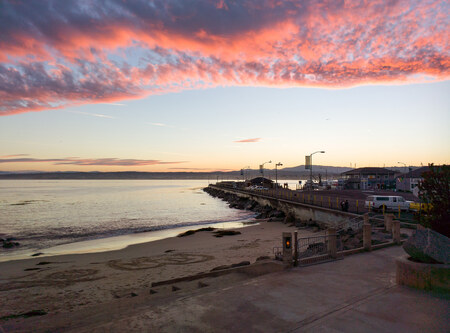 Night Diving
A whole different world of critters comes out at night. See octopus, phosphorescent algae, shrimp, and more.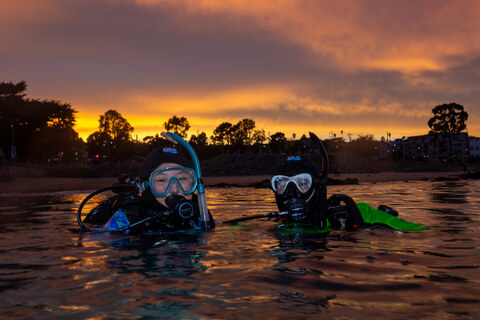 I almost always do these dives at San Carlos Beach, since it has a great variety of life and easy navigation at night.