Learning about dive safety makes you a better, more confident diver.
Ready to get started? View current rates, or send me email at scuba@spanglers.com for more information.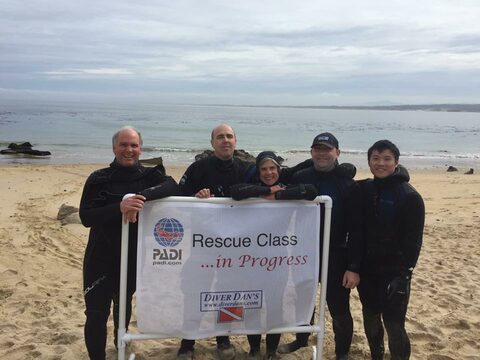 Rescue Diver
Learn how to rescue yourself and others. This is a huge confidence boost, and recommended for those diving with family members. Rescue Diver is also required for the top-level Master Diver certification.
Class time: 6 hours + 3 hours in the pool
Number of dives: 2
Prerequisites: Advanced Open Water Diver, First Aid / CPR, 12 years old
First Aid and Safety Classes
You can take these classes even if you're not scuba-certified.
Emergency First Response
Learn basic first aid and CPR. This is a good idea whether you're a diver or not. This or a similar course is required for Rescue Diver.
Class time: 6 hours
Number of dives: None
Prerequisites: None
Emergency Oxygen Provider
Emergency oxygen is one of the most effective treatments for scuba diving injuries. Learn how to administer it properly.
This counts as one of your five specialties towards PADI Master Diver, even though no dives are required.
Class time: 3 hours
Number of dives: None
Prerequisites: None